Transactions Review
Introduction
The transactions review feature enables users to identify new transactions coming into their Pry account. As you are doing bookkeeping on Pry, it is important that every transaction is accounted for and properly categorized to get up to date financial statements. With this feature enabled, you can very quickly see which transactions need your attention every time you log in to your Pry account.
Please note that you can only use this feature if you have connected your bank account directly to Pry. If you are using QBO or Xero, the transaction review process is done on those softwares instead.
You can read more about categorizing transactions on Pry through our bookkeeping guide here.
Enabling Transactions Review
To start using the feature, you need to enable it on your settings page.
1. Log in to your Pry account, click on the user icon on the top right → Settings → Profile.
2. Under Profile tab, click on the Experimental tab on the left hand side.
3. Under Experimental Features, there will be a Transaction Review Setting. Click on Enable.
4. Choose between Personally Reviewed or Team Reviewed. If you have multiple users on your account, Team Reviewed is suggested. Finish by clicking on Save Changes button.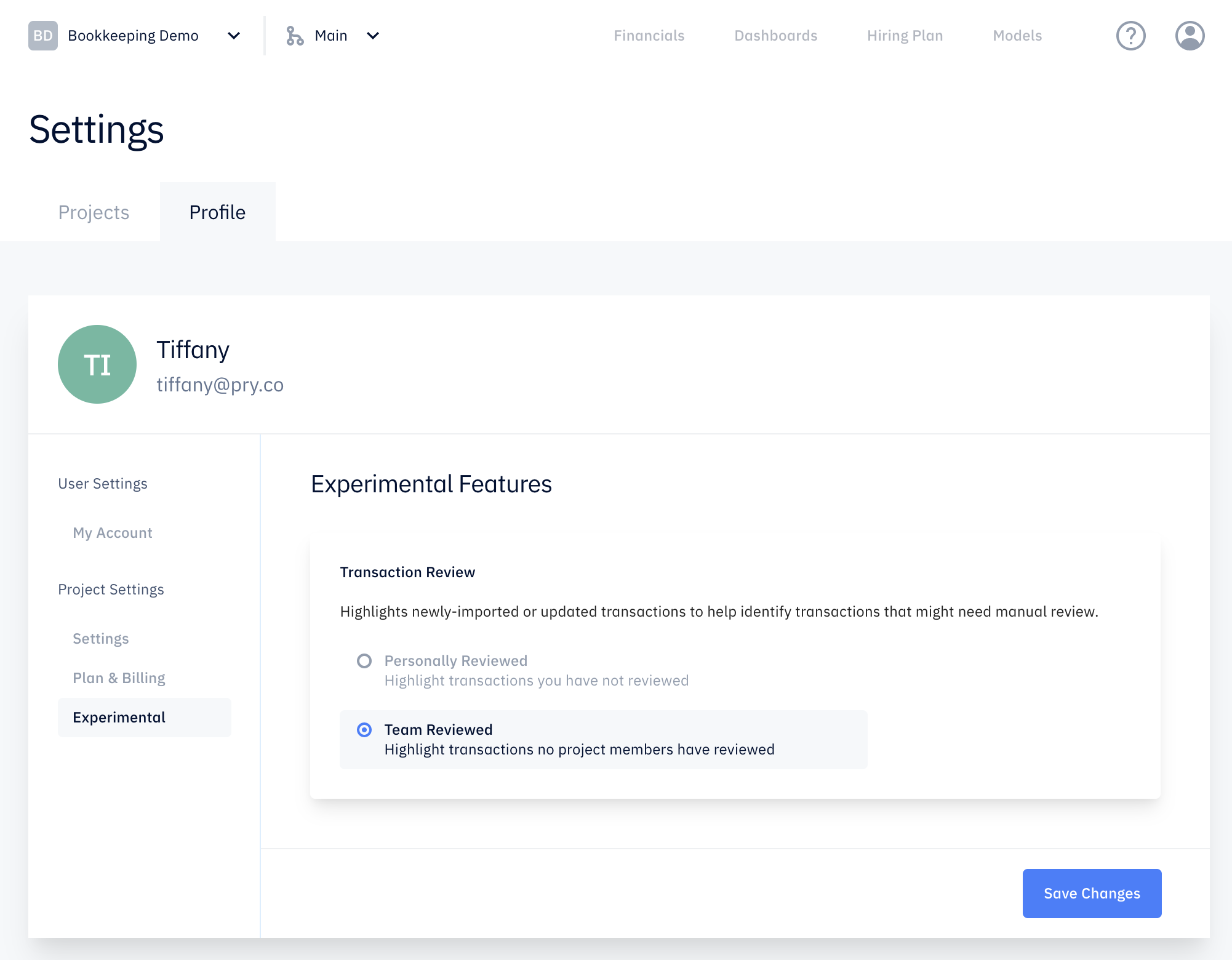 Commands and shortcuts
With this feature enabled, you need to begin marking transactions as reviewed to remove the highlight on them.
See the transactions below to see an example of a transaction that requires your attention.
There are multiple ways to mark transactions as reviewed. Here's how:
Hover over a highlighted transaction and press the flag icon above the amount value.
Hover over a highlighted transaction and press "e" on your keyboard.
Click on a cell and click on the flag icon with blue background to bulk review the transactions.
When you change the categorization of a transaction, it is automatically marked as reviewed.
You can also filter transactions that need to be reviewed by clicking on the bullseye icon next to the flag.
If you accidentally marked a transaction as reviewed, you can add the highlight back again by clicking on the flag icon above the amount value.
Initial Review
After you enable the Transaction Review feature, all your historical transactions will be highlighted. If your books are up to date, you can click on the the Account Headers (Income, Cost of Goods Sold, Expense, Assets, Liabilities, Equity) to select all the transactions and click on the flag icon to mark them all as reviewed.
This is a quick and easy way to mark all your transactions as reviewed so you don't have to look back to them and focus only on future transactions.
If your books are not up to date, your transactions will be automatically marked as reviewed as you categorize them. If you have done historical bookkeeping work, you can mark historical transactions as reviewed and keep the recent month's transactions with the highlight.
Ongoing Review
After finalizing your initial review from the previous step, you are now able to identify new transactions on an ongoing basis. You will see new transactions on Pry as soon as they are posted on your bank or credit card account. It is recommended to review them on a weekly basis to keep your books clean and accurate. The weekly review should take you 5-10 minutes depending on the volume of your transactions.
Was this article helpful?