Overview
The Pry dashboard is interactive and highly customizable. You can build custom charts based off of your Pry data to track and display your KPIs for both financial and non-financial metrics. You can also share your custom dashboard link with your executive team members or investors.
Creating and Managing Dashboards
To create a new dashboard, click on the Dashboard drop-down and click on the "+" sign to add a new dashboard.
To switch to another dashboard, click on the Dashboard drop-down and select the dashboard from the list.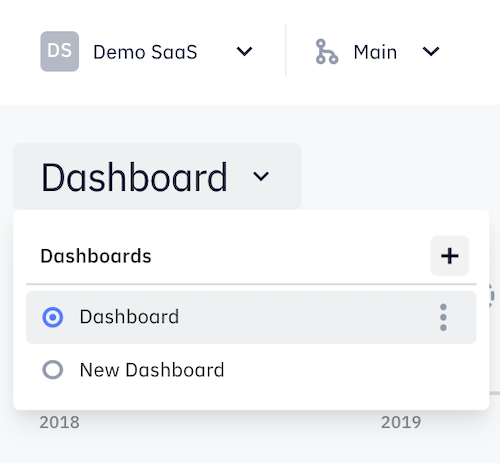 Sharing a Dashboard
If you want to share your dashboard, click on the Share button and it will populate a custom dashboard link.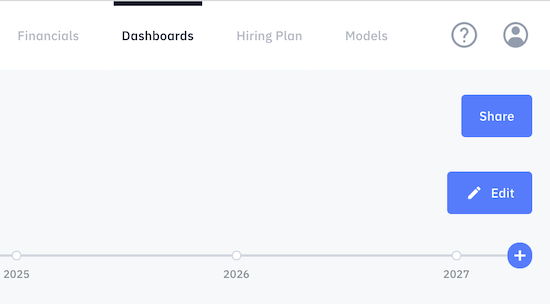 Please note the following when sharing the link:
It will be accessible to the public(anyone without a Pry account).
It will be shared in a sandbox view(anyone can interact and make changes to the dashboard but they will not be saved and they will not have access to the underlying data).
All date range will be available(it can project beyond the 5-year forecasts).
The link can be reset(access to the old link will be invalidated).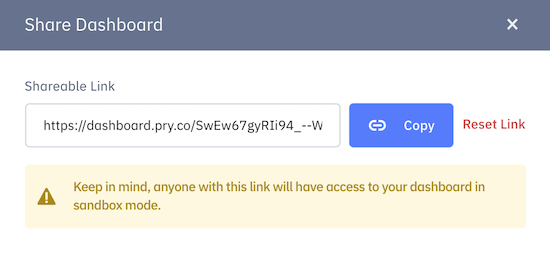 Sections
A dashboard can have multiple sections. Sections have their own dates, scenarios, and date range. You can use multiple sections to compare different financial situations on the same dashboard.
Click on Edit to enter edit view.
To create a section, click on Add Section at the bottom of the dashboard.
To move or delete the dashboard section, click on the option menu (3 vertical dots) on the section header next to "done" and "+".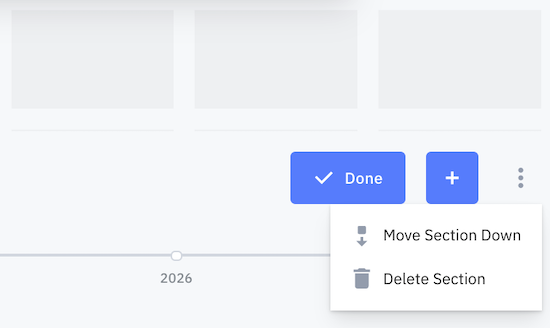 Section Name
The Section name can be customized. Click on the name to rename it.
Preview month
The preview month will set the preview for all of the charts within the section. The preview month can be different from section to section and can be set in view or edit mode.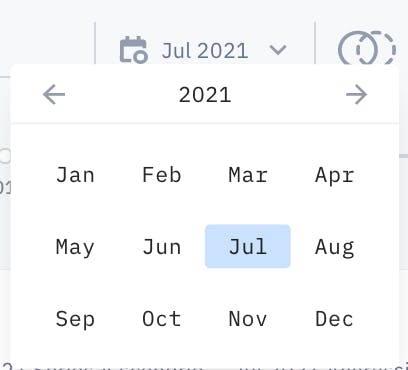 Scenarios
Every Section can reference multiple scenarios. Click the "+" sign to add more scenarios to the section. The charts within the section need to be configured to show data from 'all scenarios' in order to show comparisons.

Date Range
Sections have their own date ranges that are unaffected by other sections.
Once your section is set up, it's time to create charts.
Charts
Each section can have different number and type of charts.
See more info about charts →
Was this article helpful?