For a Deep-Tech Startup Battling Blindness, Tracking Cash Runway is Part of the Mission
Quadrant Eye is a physician-led, seed-stage company with an offering that is fighting causes of preventable blindness
Quadrant Eye: leveraging cutting-edge R&D, equipment, and software for at-home eyecare  
Not so long ago, Dr. Quinn Wang (CEO), co-founder at Quadrant Eye, was an ophthalmologist in private practice, performing cataract operations using  innovative surgical techniques. Fast-forward to today, and Quadrant Eye has gone through YCombinator (Winter 2021), grown its team to 15 people, and raised an oversubscribed seed round this year.
Quadrant Eye, founded in 2020 by Dr. Wang and CTO Kristine Yoshihara, offers an at-home vision test that will eventually become an end-to-end eye exam. 
With the 65-and-older population and their demand for eyecare expected to balloon in the United States over the next two decades, Quadrant Eye's exam could mean a visually richer life for many patients. But also, with more convenient access to high-quality eyecare, relatively common ailments like cataracts and age-related macular degeneration will be caught earlier.
"In my practice, I saw a lot of people at the end of their eyecare journey, and at that stage, there's a lot less you can do," says Dr. Wang. "A lot of those outcomes could have been different. The lack of any alternatives to traditional eye and vision exams is a very prevalent and real problem."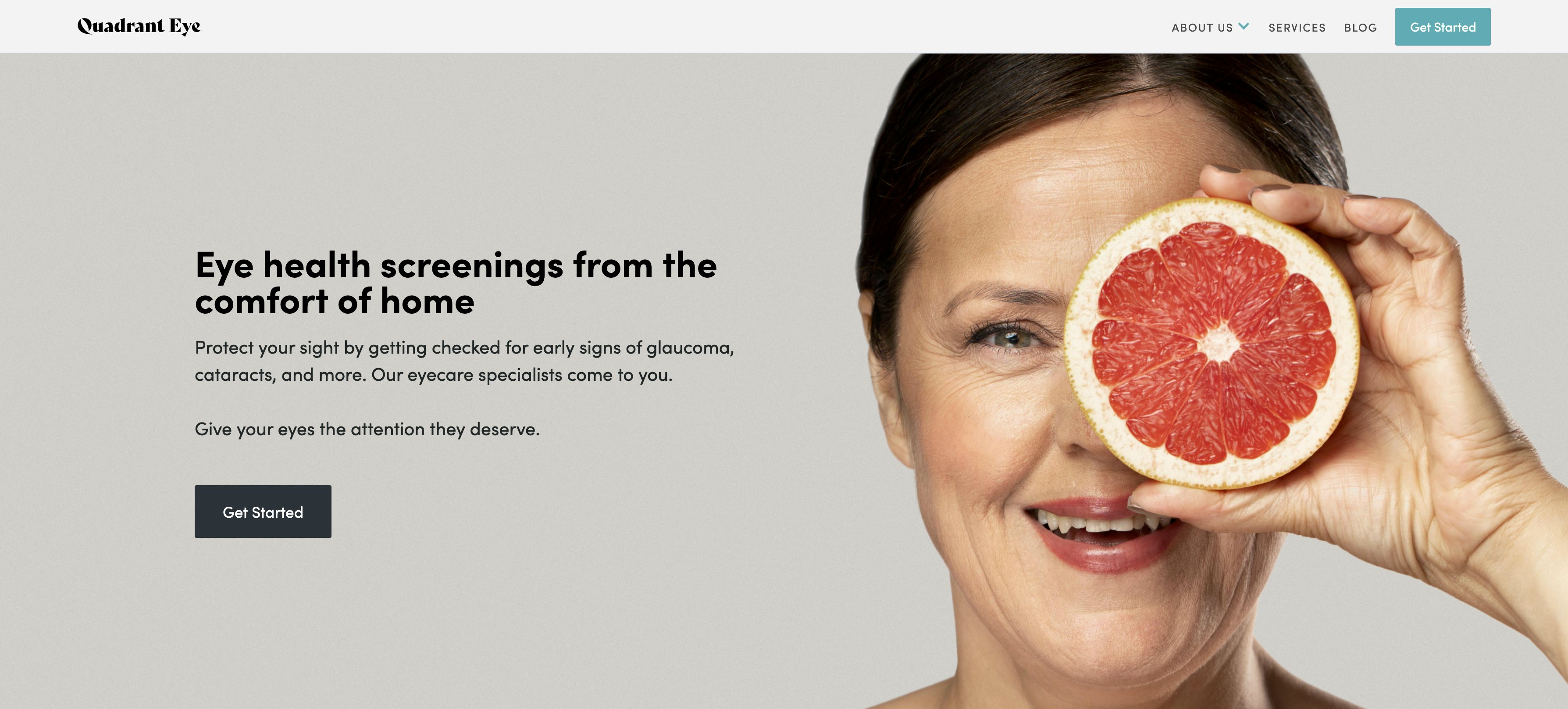 Who manages the finances at Quadrant Eye?
Quadrant Eye's CEO, Dr. Wang, and co-founder Kristine Yoshihara, remain deeply embedded in the young company's finances.
As a healthcare startup, Quadrant Eye is launching gradually with pilots and geographically-constrained roll-outs. The company sits at the nexus of several complex ecosystems. It must engage with Medicare — the government-subsidized healthcare available to US citizens 65 and older — as well as the worlds of medical equipment and AI software. 
Having raised a seed round, it must weigh purchases and hiring carefully against impacts on remaining cash runway. And as a tool that organizes finances into a one-stop-source, Pry has become useful to the team despite the fact that the company is largely pre-revenue.
Quadrant Eye's finance stack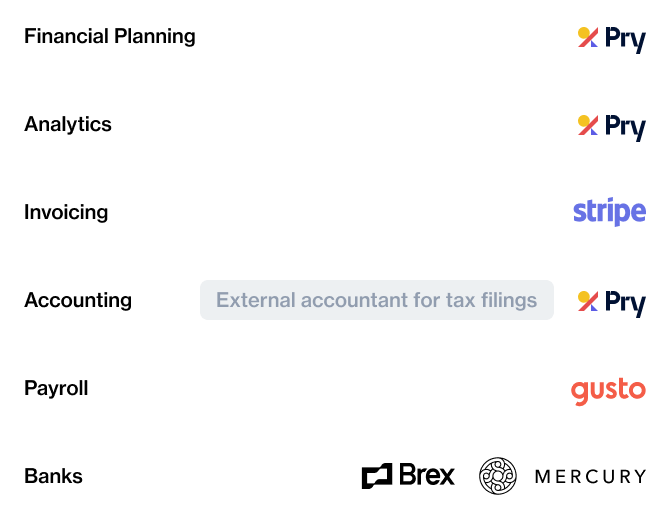 Financial Planning: Pry
Analytics: Pry
Payment Processing: Stripe
Accounting: Pry | External accountant for tax filings
Payroll: Gusto
Other: PayPal & Venmo for paying contractors
Before Pry: financial data in silos
With less than two years of life, Quadrant Eye has not had the problem of developing too many bad habits when it comes to finances and financial planning. But like at many startups there was an early reliance on spreadsheets, and a tendency for data to become locked up in pockets, hampering visibility.
Quadrant Eye's unique structure aggravates the challenge of gathering data in one place. As a healthcare provider that must comply with certain regulations, Quadrant Eye had to create two corporate entities: one, a traditional Delaware C-Corp, and another  — a Professional Medical Corporation — to house the medical practice
"Our corporate structure is a bit unusual," states Dr. Quinn Wang, Quadrant Eye's CEO.
Not to mention, as a healthcare provider there's always the need to work with different parties: not just patients, but also their insurers (including government-run Medicare, as already mentioned). Finally, deep tech is synonymous with significant capital expenditures on equipment. In Quadrant Eye's case, the hardware and software needed to power vision exams and eye-health diagnostics. 
The risk with this complexity is that pulling the finances into a single view becomes challenging and time consuming.
After Pry: runway visibility in one click
Regardless of what came before, the need to track runway became essential after Quadrant Eye raised an oversubscribed seed round earlier this year. 
As a company contemplating large purchases, scaling a team, and a path to revenue growth, the two execs who founded Quadrant Eye do not have the luxury of taking their eyes off the financial details. 
Dr. Wang, Quadrant Eye's CEO, is quick to mention that she relies on Pry's runway modeling, which gives immediate visibility into cash position, as well as the ability to forecast different scenarios and how they might impact remaining runway. 
"The tool feels intuitive," she says.
Pry in action: calibrating fundraising
Every founder knows how difficult it is to allocate time and attention when there's a growing company to run, but also pressure to get ahead of any financing needs. 
For leaders at any startup the omnipresent question is: when should I intensify my fundraising efforts?
At Quadrant Eye, Pry offers real-time transparency into the runway. And so co-founders know how to calibrate their energy when it comes to fundraising. 
"With Pry's help I always know how aggressively I can be spending on the one hand, and how to calibrate the timing of fundraising on the other," says Dr. Wang.
Whether it's the runway tool, the hiring plan, or the ability to tweak costs and see the figures cascade in real time through all the financial statements, Pry gives Quadrant Eye the confidence to focus on advancing their mission.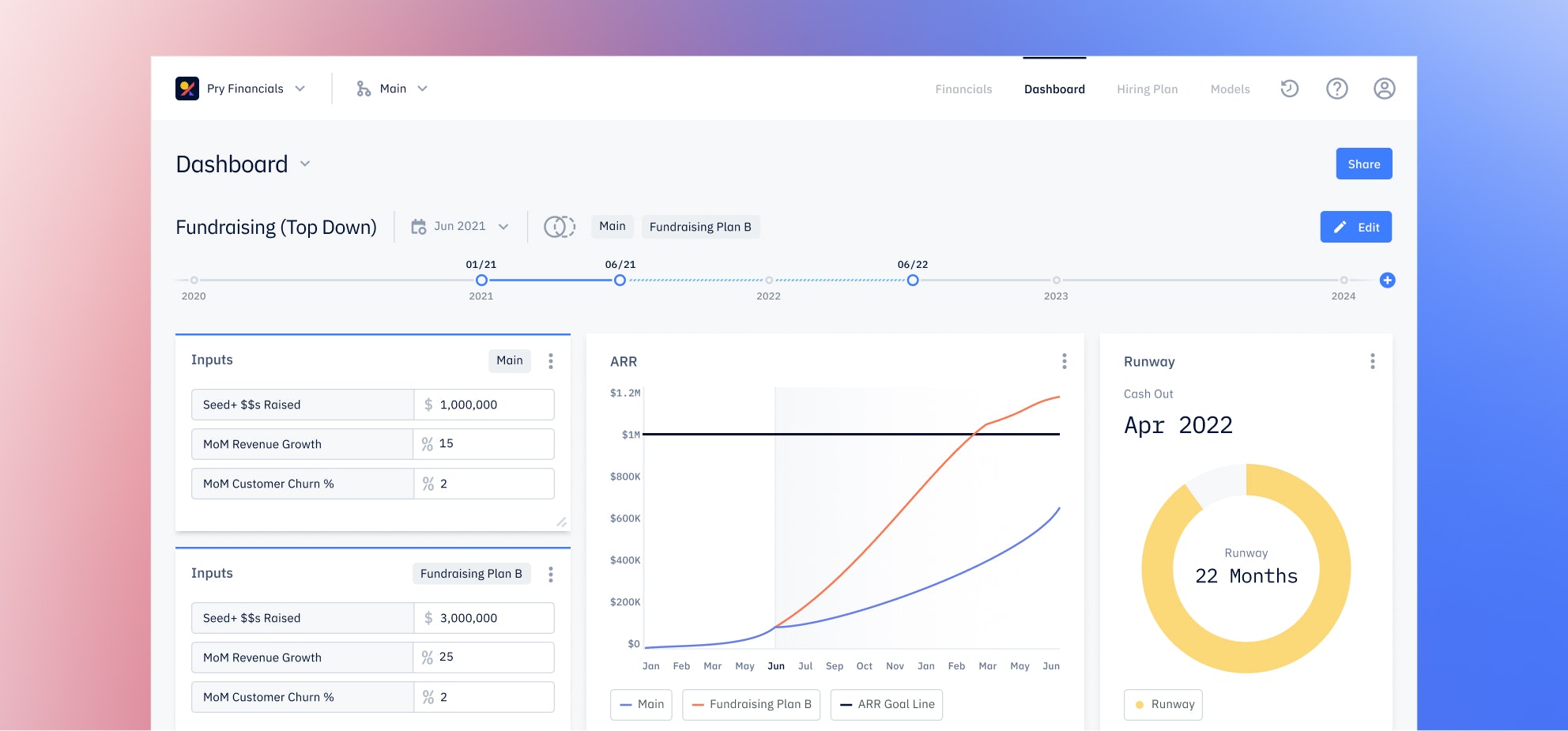 Pry in action: a team in support of the tech
For founders who don't have a finance or accounting background, it's a relief to know that Pry's team stands behind what they do with smart and committed customer support help, when and if it's needed.
Like many startups do, Quadrant Eye has set up a monthly cadence for the updates that form a core part of its financial hygiene, and Pry is part of the process.
"I talk with our account manager at Pry every month, to make sure our expenses are correct, nothing is out of the ordinary, and everything is organized," says Dr. Wang. "Having that personalized touch point is a big thing."
And there's also the ability to communicate clearly with its external stakeholders too. For example, Quadrant Eye has to periodically share financial data with contractors who help with the taxes and finances. 
Pry makes it easy to export the relevant data and know that it's accurate and up to date.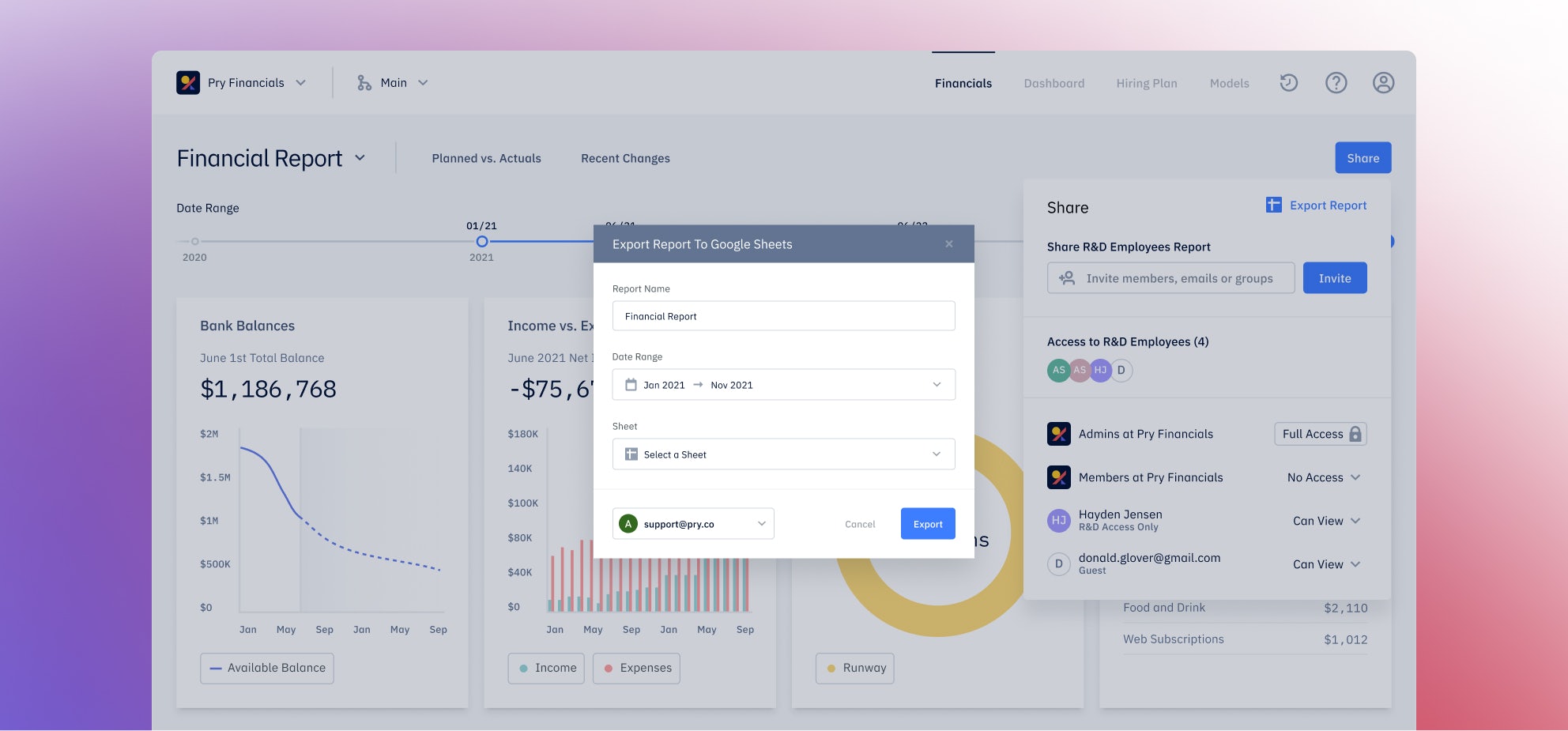 The Pry difference: an ability to focus on your mission
For Quadrant Eye CEO Dr. Quinn Wang, the Pry experience means a feeling of clarity when it comes to financial fundamentals, even while operating in a complex and regulated sector. 
As a result, Dr. Wang and CTO Kristine Yoshihara can focus on bringing eyecare to people's homes. 
Recently, in a personal post on the company blog, Dr. Wang shared that her own 85-year-old grandmother is legally blind. 
As Dr. Wang recounts the story, her grandmother refused an ophthalmologist visit for years, due to the hassle and cost she wanted to spare relatives. By the time she did get care, it was too late. The outcome might have been different if there had been eyecare she could access from the comfort of home.
This story is hardly an outlier, says Dr. Wang.
"Now that I'm an ophthalmologist myself, I've managed countless such cases from the other side of the exam chair," writes Dr. Wang. "In the heart of Silicon Valley, I recently cared for someone else's grandfather who went blind during shelter-in-place … because he didn't even have someone to phone for eye advice."
At Pry, we're excited to support innovative companies like Quadrant Eye, with its mission of protecting people's vision while preventing blindness and eye diseases. If you're a startup founder who wants a better and simpler way to stay on top of your runway, we'd love for you to try Pry out. By the way, if like the founders at Quadrant Eye you are a YC alum, please email us to learn more about our YC offer. Over 100 YC founders already use Pry.