Overview
With roles & permission, you can control who has access to every aspect of your Pry account. Personalize view or edit access to your budgets, hiring plan, models, or dashboards.
Here are some common cases where you'd want restrict access:
Giving department heads access to their department budget & payroll forecast without seeing other department information.
Giving investors or team members view access to financial statements or expense reports without seeing sensitive data on payroll or financial accounts.
Project Roles
We have three different types of Project Roles on Pry, each with specific level of access. You can add or edit Project member's roles at anytime through the Members page.

Admin - Admin members have full access to your Pry account and have the ability to add and edit other members to your Pry account.
Member - Members have edit and view access to specific shared pages within your Pry account. They cannot add or edit other users to your account.
Viewer - View-only access to explicitly shared reports and pages within your Pry account. This level of user cannot edit or share any information on your Pry account.
Groups
You can utilize our Groups feature to help you organize levels of access. Once you've created a group with a specific level of access, all future users that are added to the group will also share the same level of access.
Create Groups
To create a group, head to your Group Settings page and click on the + New Group.

Add/Remove Members to Groups
To add an user to a group, head to your Group Settings page and click on the dropdown on an existing group followed by + Add Members.
Input the user e-mail on the field box and press Add. Note that they must be an existing member to your Pry account in order to be added to a Group.

After you have added a Member to your Group, you can remove them by pressing on the x field next to their email.

Share Group Page Access
Add or remove pages from your Pry account where each group have access to. A page can be a financial report, custom report, models, dashboard, or hiring plan report. To share specific page, click on the + Share pages under the Page dropdown next to the group you want to edit access.
Find the pages or reports you want to share with the specified Group as well as the access level and press Share.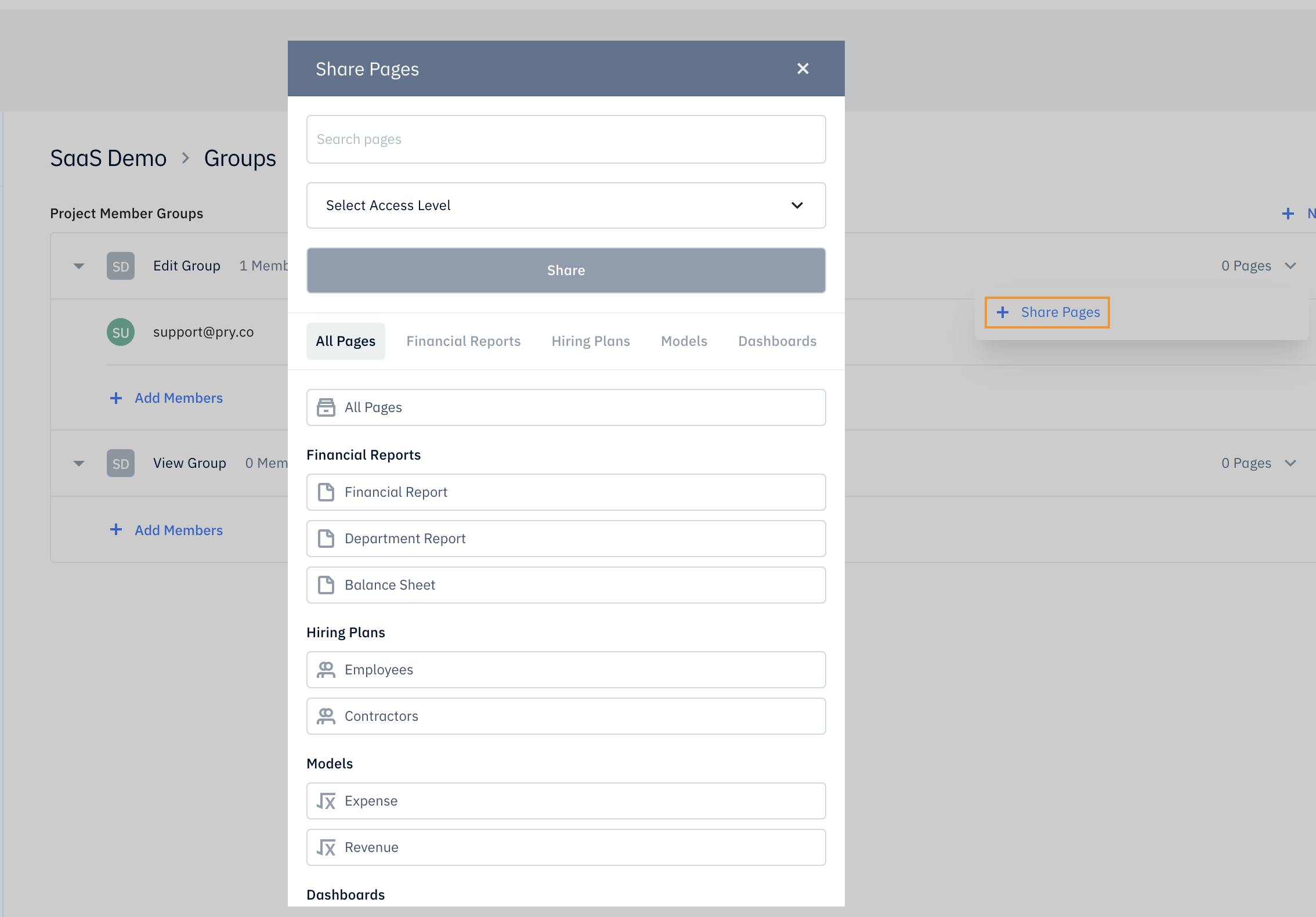 Delete Group
To delete group press on the x next to the Group name.

Was this article helpful?