Accounts
Financial Accounts and Category Accounts
Financial accounts are where your business transacts from & to, such as bank accounts and credit cards. Category accounts is basically a list of categories to describe your business transactions. You can view the financial accounts on the Accounts page whereas you can view the category accounts on the financial report.
Adding and Managing Financial Accounts
For more info on the following, check out the Connecting to Bank Accounts page.
Adding more accounts
Renaming accounts
Hiding personal accounts
Disconnecting accounts
Chart of Accounts
You can view the chart of accounts on the Financials page > Financial Report.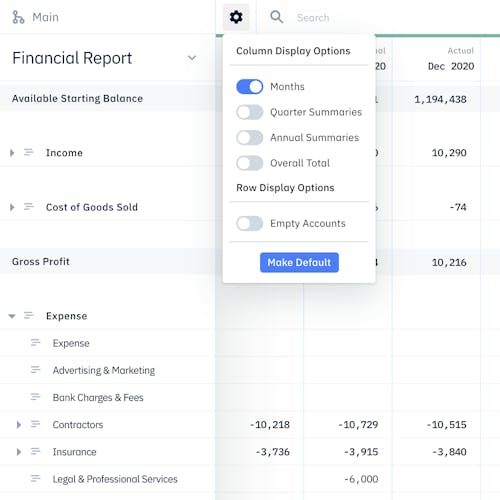 Viewing all accounts
By default, your empty accounts will be hidden. To view all your category accounts, click on the gear icon to the left of the search bar and toggle on "Empty Accounts" to see them. Once you have a transaction or budget entry in the empty account, it will no longer be hidden.
Adding sub-accounts
To add sub-accounts, hover over the main account you want to create sub-accounts under and right click or click on the 3 horizontal dots on the right > "+ Add Sub-Account". If you want to add a main account, add a sub-account under Expense to create a new main account.
Reordering accounts
To re-order the accounts, click on the category account you want to re-order and drag & drop it to a different row. You can re-order the accounts however you'd prefer.
Applying tag to accounts
To apply a department tag to a category account, click on the drop-down under Financial Report and click on Department Report to access it. Drag and drop the category account to its corresponding department. Once the category account is in there, all future transactions that are in this category account will automatically have its department tag applied. visual: department report
Was this article helpful?