Clarity in Financial Planning Helped This Fast-Growth Cybersecurity Startup Navigate Strategic Decisions
Better insight into cash runway helped security startup Intruder move faster in hiring and scaling their operations.
Intruder: a cloud-based vulnerability scanner 
London-based Intruder was founded in 2015 and has raised $1.2 million in funding to date, most recently a Seed round in October 2020. Today, they have more than 1,000 customers.
Intruder is a one-stop-shop vulnerability scanner that finds weaknesses before hackers can exploit them. Intruder works across environments. It scans against threats from the internet, but it also looks internally for security holes like missing patches or flawed encryption. 
By integrating with cloud providers and software-development tools, Intruder can work in the background, discover vulnerabilities in real time, and alert clients about their most pressing issues.      
The complexity of effective cybersecurity systems has long meant that they were only accessible to governments and the largest companies. Intruder hopes to change this by making their service accessible to developers and IT managers.. 
"Our mission is to simplify cybersecurity for customers who don't have the resources or expertise to manage it themselves," says CEO and founder Chris Wallis.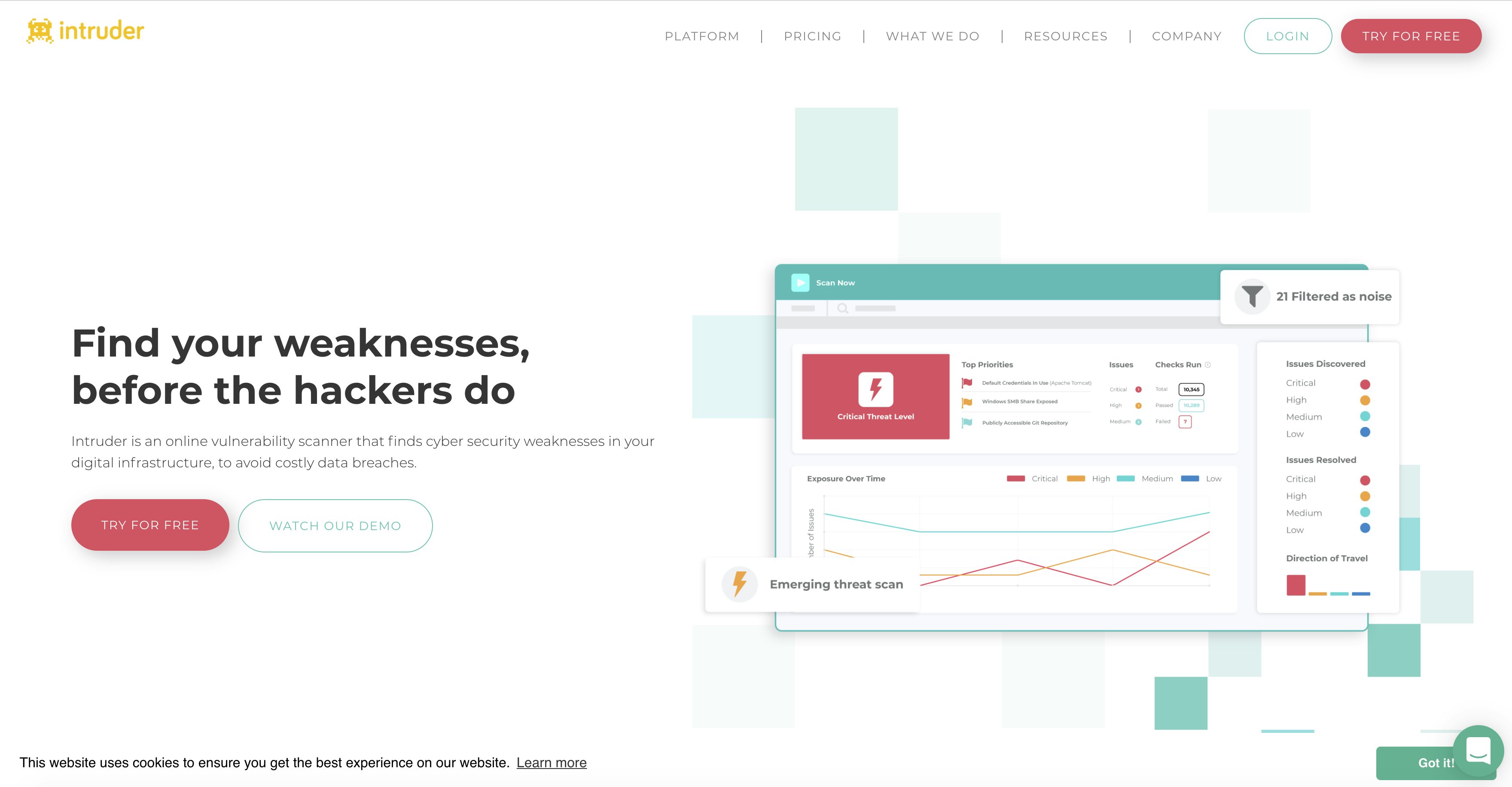 Who manages the finances at Intruder?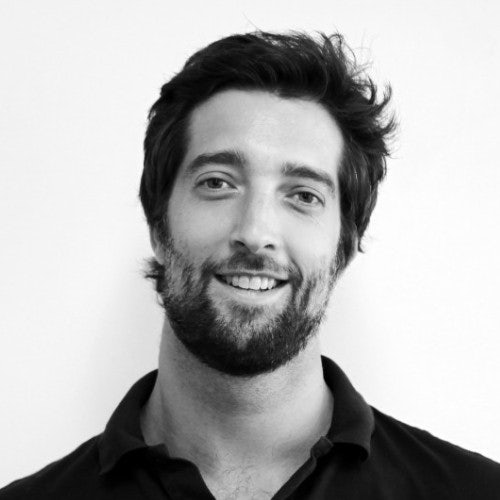 As CEO of a fast-growth company, Chris oversees Intruder's monthly financial updates and planning process. His background in cybersecurity prepared him well to run his startup, but it did not prepare him for managing its finances. 
"I have absolutely zero background in finance," he says, "skilling up on accounting is a constant challenge."
Today, Chris describes himself as a power user of Pry. The easy access of real-time information helps him review financials, calculate his cash runway, and plan for future growth without wasting precious time worrying where the money is going. 
But it was not always so easy. Without Pry, a manual miscalculation here or there could lead to erroneous assumptions with serious implications for the accuracy of Intruder's financial planning.
Intruder's finance stack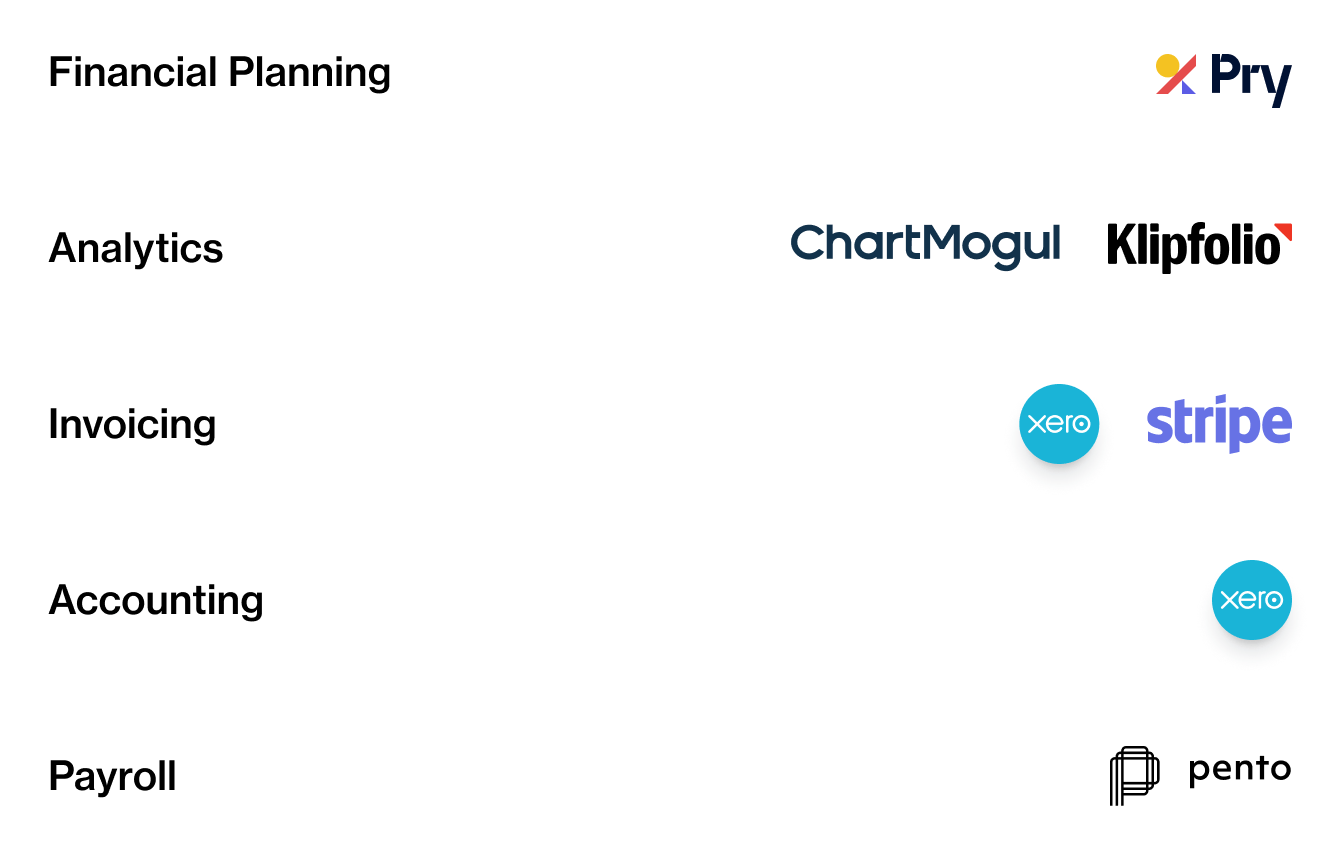 Financial planning: Pry
Analytics: Chartmogul | Klipfolio
Accounting: Xero
Payroll: Pento
Before Pry: spreadsheet confusion and poor visibility
Chris describes life before Pry as difficult and uncertain. Part of the problem, he admits, is that he was so tied-up with fundraising that he didn't always have time to manually update his spreadsheets.
The other problem was the spreadsheets themselves. Chris had built them himself over the years, and each month he'd have to remove columns, copy and paste his previous work, and manually update a lot of information. Any manual process is prone to errors, and so predictably, the sheets soon became unwieldy and made financial planning a headache.
Losing faith in his complex and error-prone spreadsheets, Chris reverted to back-of-the-envelope calculations based on his bank balance and the previous month's spending to quickly calculate how long the cash would last him. Simple enough, but, as it turned out, misleading.
After Pry: less time wasted, more money for growth
After Pry, Chris gained a newfound clarity into Intruder's finances that allows him to more effectively plan the company's future and growth strategy. That's one of the reasons Chris loves Pry: it makes financial planning more accessible. Much like Intruder's vulnerability scanning, Pry helps you focus on what's important and then gets out of your way. There is no noise.
With a few clicks in Pry, Chris can get an overview of his business, see where his money is going, and not spend the rest of his time worrying about it.
Using Pry's powerful formulas that automatically factor in real-time information, Chris found that he had underestimated the company's runway. It turned out the manual process he followed had not factored in Intruder's impressive month-over-month growth, and the company had a much longer runway than he previously thought. That money, he realized, could go back into the business to ramp up growth even faster.
"That clarity of what we could do with our finances was game-changing for us," he says, "I realized we could be moving even faster, and ever since we have been managing our resources a lot better."
Pry in action: real-time updates and strategic thinking  
Chris's main use case for Pry is just that: calculating cash runway. The first thing he does after his accounts have been updated for the month is log into Pry and check on the runway situation.
For Chris, the cash runway is not only a matter of how much money he has, how much he needs, and how much he can spend, but it also acts as a check on his past planning. Seeing the runway, he can evaluate if his forecasts were correct, or if his assumptions need tweaking. And increasingly, Chris is using Pry to inform strategic decisions like hiring and funding. 
"Scenario planning is something I've been able to do more of now," he says, "Let's say we've got eighteen months of runway. But if we hired an extra ten sales people, for example, we'd run out of money quicker but generate more in the long-term. If we need only a million to cover that gap, however, then I should go get an extra million of funding."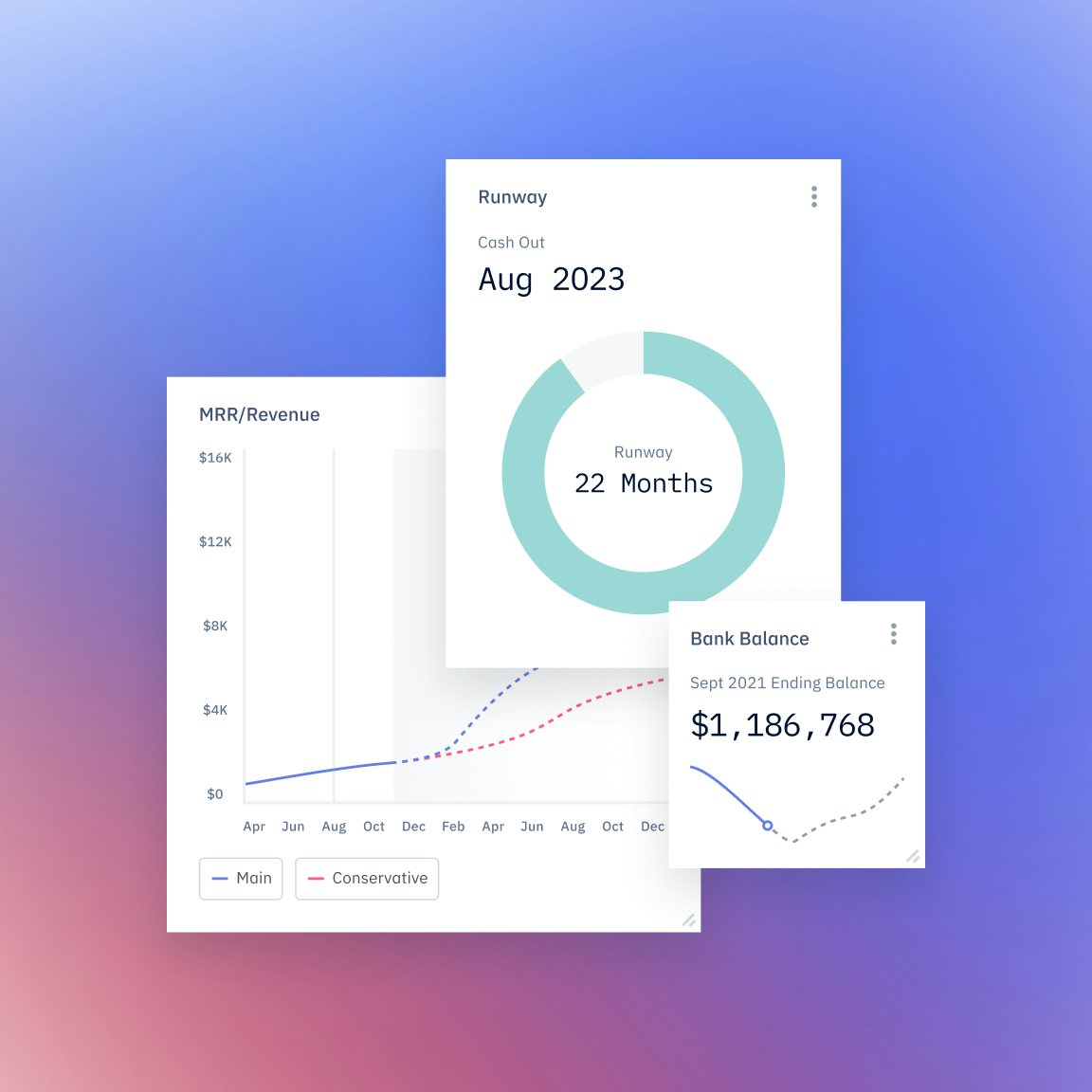 Pry in action: scenario-planning to inform fundraising
Financial reviews used to mean that Chris felt stressed, since those crucial hours could be spent focused on customers or speaking to investors. But armed with the time-saving Pry, he now makes financial planning integral to his monthly routine. As he considers taking on new funding, Chris envisions Pry will also play a big role in the process.
"Investors always ask, what are you going to spend the money on? Pry makes it so simple to show them. I used to hate sending over those big spreadsheets, but with Pry I can show you two scenarios: with the investment or without, and you can look at the differences in outcomes between them." 
As Intruder grows, Chris believes Pry and scenario-generation in the tool will increasingly allow him to delegate aspects of his financial planning to his team. With Pry, colleagues will more easily share one clear picture of where the company stands, and so collaboration on complex tasks like hiring plans becomes feasible.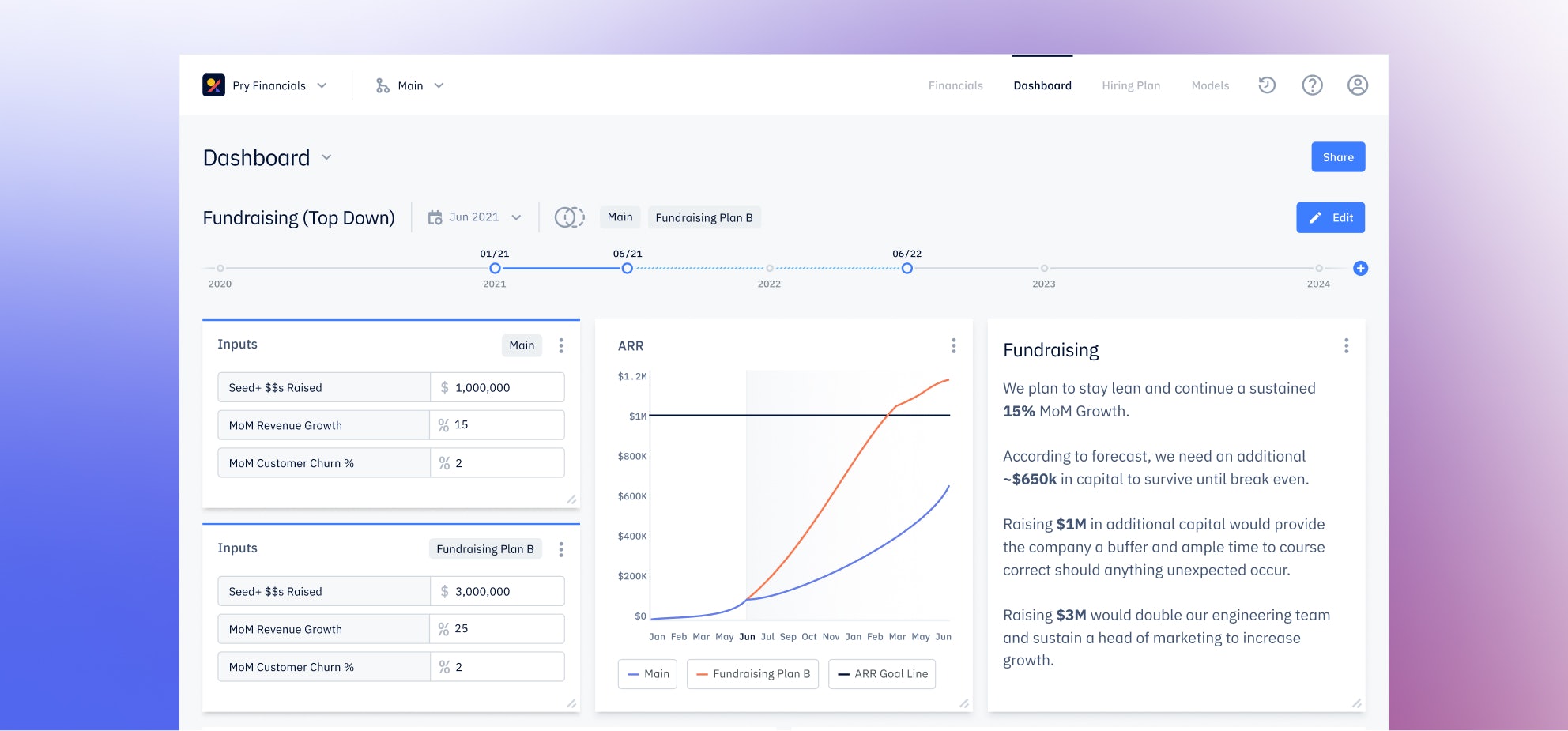 The Pry difference: financial planning made easy and accessible   
For Intruder CEO and founder Chris Wallis, Pry has created clarity around his company's financial planning. Rough calculations and error-prone estimates have been replaced by real-time insights and precise scenario forecasts.  
"In a nutshell, Pry is indispensable for anyone planning finances in a SaaS business," Chris says.
At Pry, we're excited to support innovative companies like Intruder, which is making effective cybersecurity solutions accessible to businesses of all sizes. If you're a startup founder who wants a better and simpler way to gain insights into your financial planning, we'd love for you to try Pry out.